Variable Refrigerant Technologies, as a design choice, have been replacing chiller/boilers and other commercial HVAC engineered systems at an increasing rate over the last 30 years. The manufacturer's have developed varying capacities and functions by means of true variable speed compressors rather than conventional unloading compressors, depending on manufacturer, allowing up to 64 indoor units to 1 outdoor unit with "heat recovery" options. Heat Recovery allows simultaneous heating / cooling capabilities from each zone independantly at any given time, superior dehumidification control, web interface, BACnet and LonWorks compatibility, and acceptance by ASHRAE, US Green Building Council, UL, ETL, and AHRI Standard 1230 IEER ratings.
Encore Mechanical LLC's experience with long refrigerant line lengths in multi-family applications combined with our service work capabilities uniquely qualified us to excel in installing this advanced comfort cooling and heating technology.  VRT systems require an acumen for installing very clean copper refrigerant piping and very specialized control systems.
Manufacturer specific training has been instrumental in our VRT leadership position. Our belief and experience has proven that everyone in the organization from the president to the field tradesmen must understand the precision it takes to properly design, install and commission VRF(V) systems. We have completed the following course work: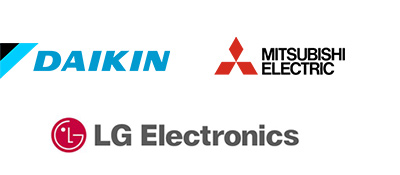 LG Multi V Installation
LG Multi V Commissioning
LG Multi V Controls
Daikin VRV III Installation and Commissioning
Daikin VRV Commissioning and Service
Mitsubishi Installation
Mitsubishi Diamond Designer
Encore Mechanical LLC is installing VRT systems in various building types such as corporate offices, schools, athletic centers, and industrial settings.
CONTACT US today to discuss your Variable Refrigerant Technology needs.